Construction Lighting Requirements: Ensuring Safety and Efficiency on the Job Site
Construction lighting requirements are essential for ensuring the safety and efficiency of construction projects. Adequate lighting is necessary to prevent accidents and injuries, improve visibility, and enhance productivity on the job site. These requirements vary depending on the size and type of construction project, as well as local regulations.
Meeting Construction Lighting Requirements with Our High-Quality Products
As a leading supplier of construction lighting, we offer a wide range of products to meet the unique requirements of your project. Our lights are made using the latest technology and high-quality materials, ensuring long-lasting performance and durability. We also offer customized solutions to cater to the specific requirements of your project.
Temporary Construction Lighting
Temporary construction lighting can be used in different working environments, which is mainly used in outdoor operations such as rescue and disaster relief, road repair and applying lighting.
The demand of mobile lighting is increasing steadily in recent years, especially in several large-scale natural disasters and projects in Taiwan, where mobile lighting engineering vehicles could be seen.
At present, as diesel generators are widely used as the power source, and most of the light sources are incandescent lamps, shortcomings such as high energy consumption, high temperature rise, high maintenance cost and bulky system inconvenient for carrying can be improved.
To optimize temporary construction lighting, manufacturers have replaced the lighting with LED lights to reduce the maintenance and fuel costs, and the advantages of convenient control and low temperature lead to more widespread use of temporary construction lighting.
Compare Yuang LED lights with incandescent lamps:
Lighting Source
LED
Incandescent Lamp
Temperature rise
About

60~70℃

About 100℃

Service life

50,000 hrs

2,000hrs

Luminous efficiency

>100 lm/w

15~20 lm/w

Ballast

No
Yes

Mercury

N0
Yes

Maintenance cost

Low
High

Initial cost

High
Low
The above table indicates that although the initial cost of traditional incandescent lamps is low, it is inferior to LED lights in terms of service life and maintenance.
Mobile construction lighting, such as trolleyed lights, are used in construction and road engineering projects to reduce the cost of setting up temporary lighting. This kind of products are mobile and flexible, and save power for the lighting of the area than the traditional way of wiring by eliminating the switch design of lighting in a large range. For engineering personnel, it saves a lot of waiting and moving time, and accelerates the work efficiency. For the overall operation, it reduces the cost and improves the production capacity.
Temporary Construction Lighting Types

Generally, the selection of temporary construction lighting will be based on different working environments and types. For example, foundation projects require long-distance spotlight (high beam), and road projects and temporary command stations require balloon lights with wide range of illumination. Hand-held or small lights that can be temporarily locked and attached to the site are suitable for small renovation and indoor projects for flexible use. For a large-scale project site where moving and pulling wires are difficult, mobile trolleyed lights are the best choice. Trolleyed lights equipped with diesel generators can be moved flexibly to different working area with the progress of project schedule, and larger lights can be used more safely based on the trolley.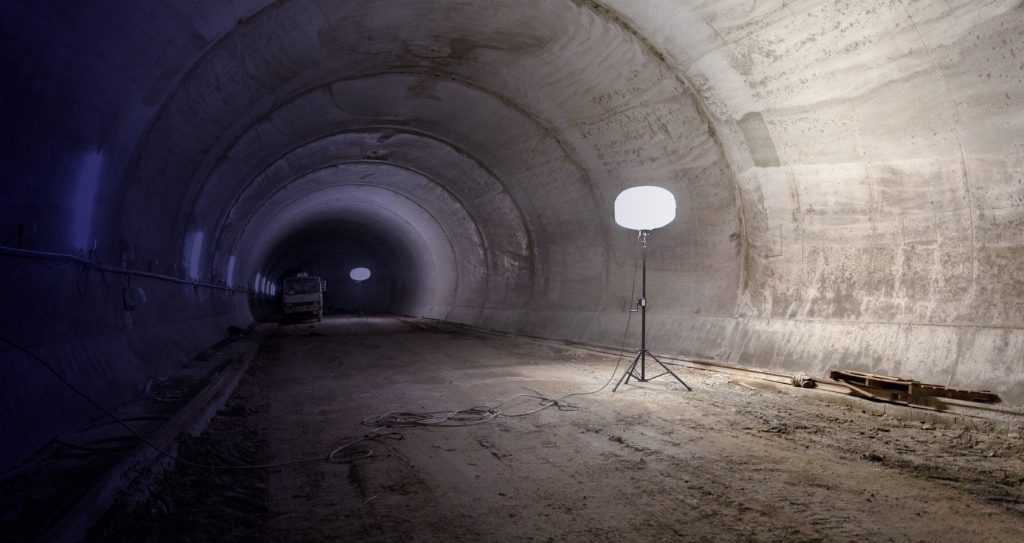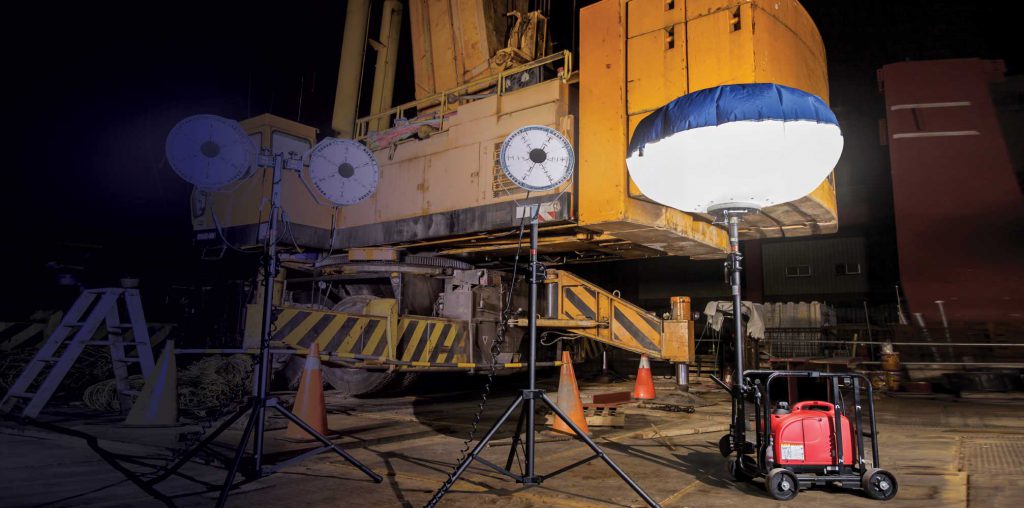 Whether using temporary construction or fixed lighting, the most important thing is to choose the lights most suitable for the current working environment. How to choose lights for different environments? 
The environmental determines the wattage of the lights. Lights with too high or too low wattage will affect the vision of on-site staff and the work.
The ground conditions of the working environment will also affect the selection of temporary construction lighting. In particular, when trolleyed lights cannot be moved on many roads at the initial stage of the projects, or the area for placement of lights is limited, only lights with tripod can be used.
Where there is no place for large lights in a relatively narrow space, small lightweight lights that can be locked on iron pipes or walls will be favored to maintain flexibility and provide sufficient illumination.
Lightweight Temporary Construction Lighting
Only fixed construction lighting can be used in many working environments in the past due to the weight and volume of traditional lights, but in recent years, newly emerged LED with reduced volume and lighter weight has replaced light sources with the same luminance, and mobile temporary construction lighting are used more widely. Moreover, the high unit price of LED also increases the amortization time and times because of the recyclability of temporary lighting, which is more cost-effective than traditional lights in terms of purchase cost.
On yuanglight.com, you can find a variety of mobile construction lighting, and tripods, medium-sized trolleys, large trolleys and other accessories are offered for choice. The design team and self-own factory of Ching Yuang also provide customized services for special needs.